The Rehab Doctors provide comprehensive, state-of-the-art procedures at Black Hills Surgical Hospital, Rapid City Regional Hospital, and Spearfish Surgery Center.
In the Pain Clinic, various procedures are performed to both diagnose and treat the source of the patient's pain.  Injections are performed with laser guidance under fluoroscopy (xray) for precise needle placement, optimizing both safety and treatment efficacy.
We offer the following procedures in our Pain Clinic:
---
Fluouroscopically guided procedures with Laser Guidance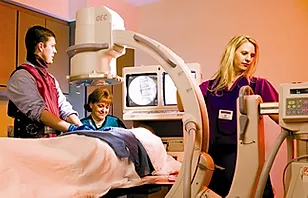 Ultrasound guided injections
Complete List
Fluouroscopically guided procedures with Laser Guidance
Epidural Steroid injections for treatment of back pain or radicular pain from a herniated or injured disc in your back
Facet injections--used to treat pain from injured or arthritic joints in your back or neck
Sacro-Iliac joint injections
Intraarticular hip, shoulder, hand, knee, ankle and wrist injections
Sympathetic ganglion blocks for treating CRPS or RSD (complex regional pain syndrome)
Diagnostic Medial Branch Blocks for evaluating back and neck pain
Radio Frequency lesioning for treatment of neck and back facet joint pain
Provactive Lumbar Discography for diagnosing the source of low back pain
Occipital Nerve Blocks for treating upper neck pain and Headaches
Piriformis muscle injections for treating buttock and leg pain from piriformis muscle spasm
Trigger Point Injections for treating persistent muscle spasm
Bursa injections for bursitis in the hip, shoulder or knee
Spinal Cord Stimulator Trials for the treatment of spinal nerve pain that persists despite extensive conservative and surgical treatment
Bo-tox injections for treating muscle spasm and pain
Ultrasound guided Injections
Intraarticular injections into the small joints of the hands and feet, wrist, ankle, hip, knee, elbow, and shoulder.
Tendon sheath injections for treating painful tendonitis including Achilles tendonitis, DeQervain's tenosynovitis, bicep tendonitis and Plantar fascitis
Joint aspiration to diagnose gout or other types of arthritis
Selective muscle injections for treating Myofacial pain.